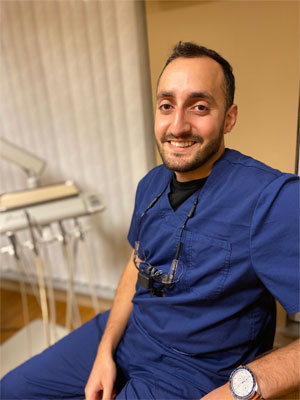 Dr. Basim El-Toukhy was born and raised in Freehold, New Jersey. He attended New Jersey Institute of Technology where he obtained a Bachelors in Biomedical Engineering and went on to receive his Masters in Biomedical Sciences from UMDNJ. While obtaining his masters, he worked in management at Six Flags Great Adventure as their Construction & Maintenance Supervisor, overseeing the construction and rehab of the rides.
Dr. Basim completed his Doctor of Dental Medicine degree at the University of New England in Portland, Maine . He was involved in various leadership positions such as VP of the American Association of Dental Research and a member of the Academic Affairs Committee. He then completed an externship at various dental offices in the Champlain Valley of Vermont addressing the need for access and quality of care.
Dr. Basim is excited to provide quality dental care in Central Jersey ranging from Invisalign to all aspects of general dentistry. Every patient should feel comfortable and relaxed at the dentist and Dr. Basim strives to go above and beyond for his patients in order for them to feel like family. He is also a member of the American Dental Association, Academy of General Dentistry, New Jersey Dental Association, and American Dental Education Association.
When not in the office, you can find Dr. Basim planning his next getaway vacation, visiting amusement parks, hiking, and playing sports. He recently completed a road trip across the entire USA, visiting several National Parks. Dr. Basim has visited 10 National Parks and plans to visit all 64.